Fintech Moldova's Annual Conference Sheds Light on the Future of Financial Innovation
Moldova, positioned at the intersection of technological evolution and financial transformation, recently hosted the fifth edition of the Fintech Moldova Conference in October. Drawing over 360 experts, specialists, and business leaders from the financial sector, the event solidified its standing as a regional hub for collaboration, learning, and networking. Regulatory authorities, bankers, financial and tech startups, as well as local and foreign representatives, converged in Chisinau to explore key themes and discussions shaping the future of finance.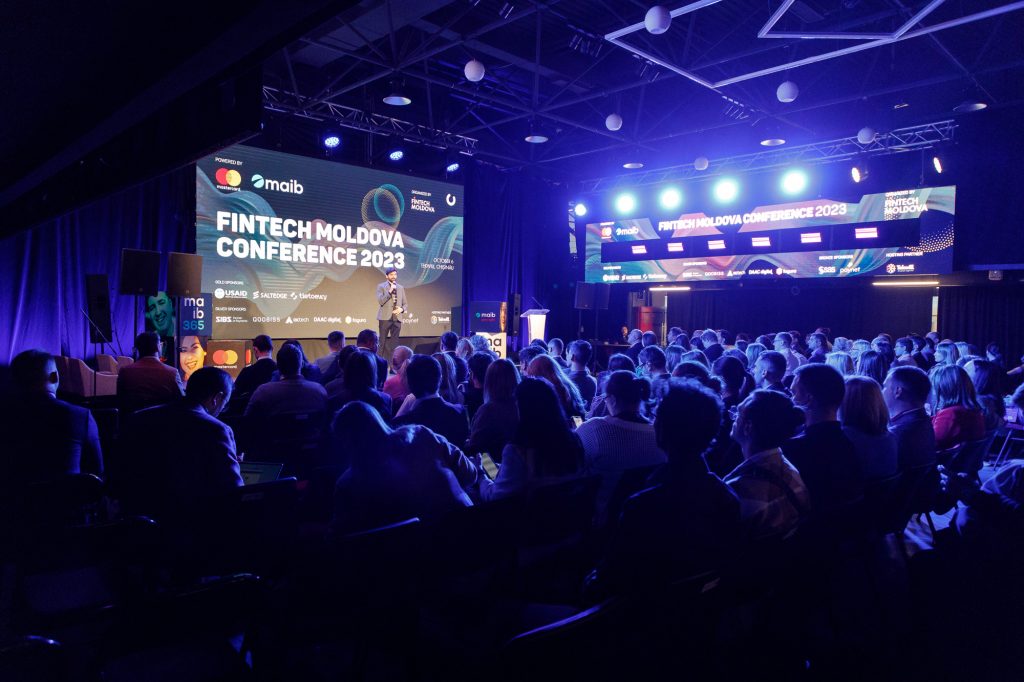 ---
Key Themes and Discussions:
Fintech Moldova Conference 2023 powered by Mastercard and maib, brought together major players from the local tech and financial sectors alongside key international experts. The focal points included recent Fintech developments on the local scene, global trends, and the progress of the local regulatory framework amid major global events such as Open Finance and Neobanks.
Two discussion panels addressed the integration of the Fintech industry into the ongoing technological transformation of the economy. The first panel emphasized Fintech innovations and their role in fostering inclusive economic growth, stressing the need for collaboration between the government, strategic partners, and the private sector. The second panel delved into the digital transformation of banking and financial services, highlighting the opportunities and challenges inherent in this process.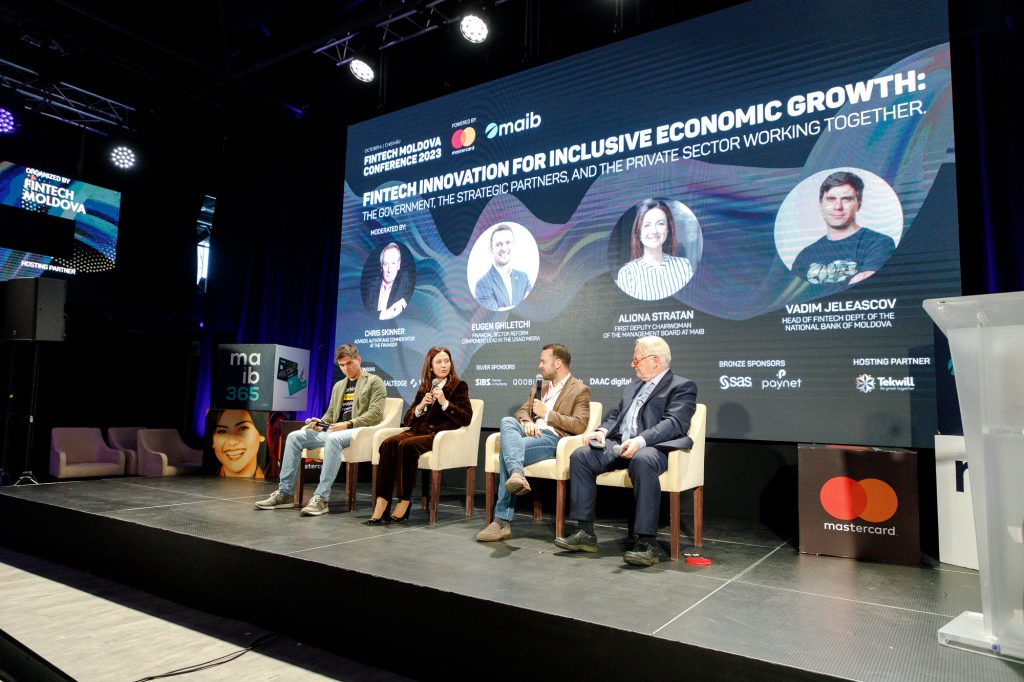 The conference offered insightful exploration into the landscape of finance, addressing pivotal questions about the evolution of money and the transformative role of technology in our interactions with financial institutions. The agenda encompassed a thorough examination of Moldova's regulatory developments, spotlighting initiatives like Open Banking, Regulatory Sandbox, and the Instant Payment System. Additionally, the discussions navigated the broader realm of Open Finance, dissecting its regulatory, business, and technological dimensions with inspiration drawn from global markets.
The Future of Payments in Moldova took center stage as an expert speaker from Mastercard, Yuriy Batkhin, Vice President, Customer Solutions, Mastercard Ukraine, and Moldova, who delved into its potential to catalyze growth and enhance customer interactions.
Moldova emerged as a global leader in adopting conductor's payments. Notably, a staggering 98% of all MasterCard transactions in Moldova are now conducted contactless, with nearly 30% of these transactions facilitated through digital wallets, underscoring consumers' growing preference for seamless and secure payment methods. The surge in mobile adoption is equally striking, with over half of Moldavian consumers embracing digital banking and a remarkable 93% utilizing mobile banking services offered by local banks.
The conference shed light on Moldova's evolving payment landscape, indicating a willingness among Moldavians to embrace online transactions. Despite this inclination, nearly half of them still manually enter card details during online checkouts. However, around 25% express a willingness to store payment cards for services like recurring and subscription payments. Furthermore, Moldavians are already leveraging digital solutions such as Apple Pay and Google Pay not only for contactless payments at physical merchants but also for secure online transactions with e-commerce platforms. These insights highlight the nation's dynamic shift towards digital finance and the multifaceted nature of its adoption across various payment channels.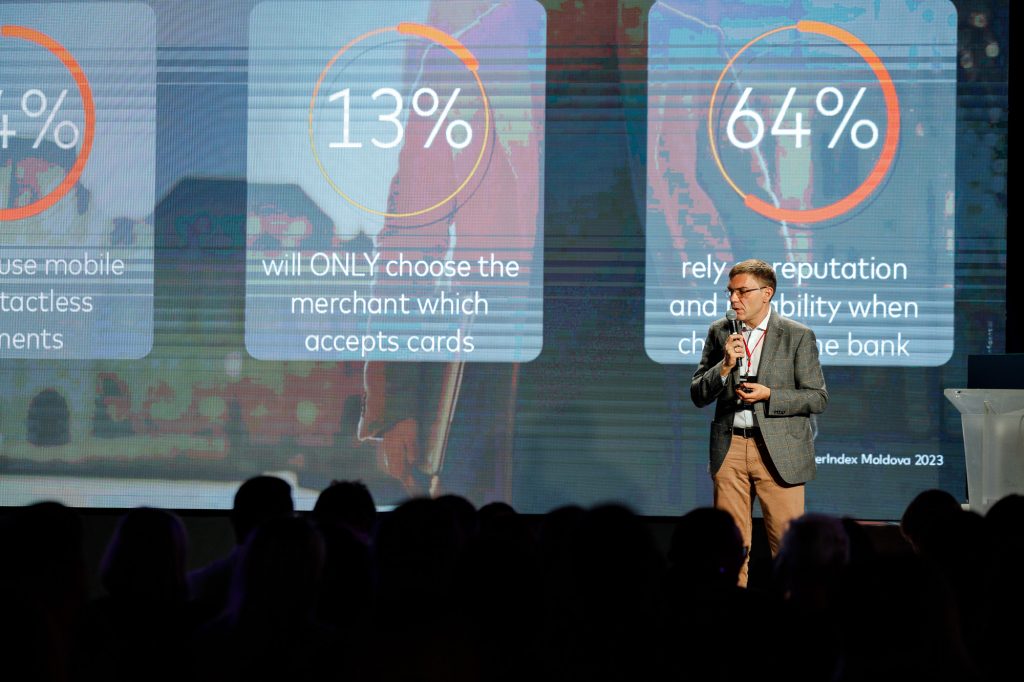 A highlight of the conference was the exploration of Neobanks, featuring Mr. Bryan Caroll, who built Vietnam's first fully digital bank, questioning whether the revolution is imminent or if optimism about Neobanks remains wishful thinking.
Mr. Carroll delved into the motivations behind his decision to establish a digital bank in Vietnam, a country with unique challenges and opportunities. His decision-making process reflected a strategic perspective centered on addressing societal issues and fostering financial inclusion. He emphasized the necessity of crafting a digital bank that not only provided services but also became an integral part of customers' lives, and highlighted the importance of going beyond conventional banking barriers, understanding the genuine needs of customers, and creating an ecosystem that seamlessly integrated with their daily routines.
Notably, Mr. Carroll's approach involved innovative techniques such as gamification and the use of emojis, acknowledging the cultural nuances and preferences of the Vietnamese audience. The narrative unfolded to reveal the digital bank's success story, marked by a customer-centric model, frugality, and a commitment to customer happiness. Attendees gained valuable insights into the evolving landscape of Fintech, understanding that the key to success in digital banking lies in innovation, cultural relevance, and a genuine understanding of customer needs. Mr. Carroll offered a broader perspective on the intricate dynamics of building and sustaining a digital bank in a rapidly evolving financial landscape.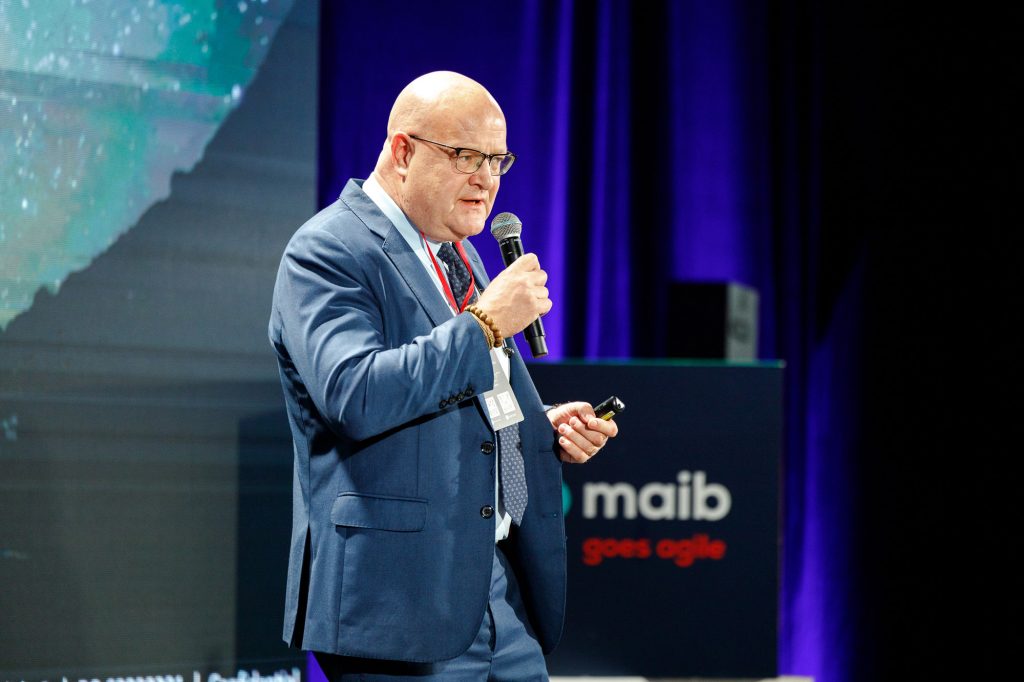 Global events, including the lingering effects of the pandemic and the impact of the war in Ukraine, were analyzed in the context of the finance sector's recovery and valuation corrections faced by private tech companies. Business leaders underscored the necessity of integrated finances for small and medium enterprises (SMEs) and discussed how Embedded Finance can aid their development.
Another interesting topic discussed was how traditional banking can be transformed with evolved management methods such as Agile. Svetlana Bodaci, Human Resources Director at maib, talked about this in detail on the stage of Fintech Moldova Conference 2023.
Emphasizing the paramount importance of leadership buy-in, maib initiated a deliberate shift in organizational structure, piloting the agile methodology with two cross-functional teams referred to as "orchestras." This move aimed to foster autonomy and collaboration, overcoming initial skepticism and setting the stage for a cultural shift. The ongoing transformation has yielded positive outcomes, including heightened customer satisfaction, increased efficiency in product development, and elevated employee engagement. The presentation served as an insightful exploration of the finance sector's journey into agile methodologies, showcasing strategic approaches and the positive impacts on both internal dynamics and external outcomes.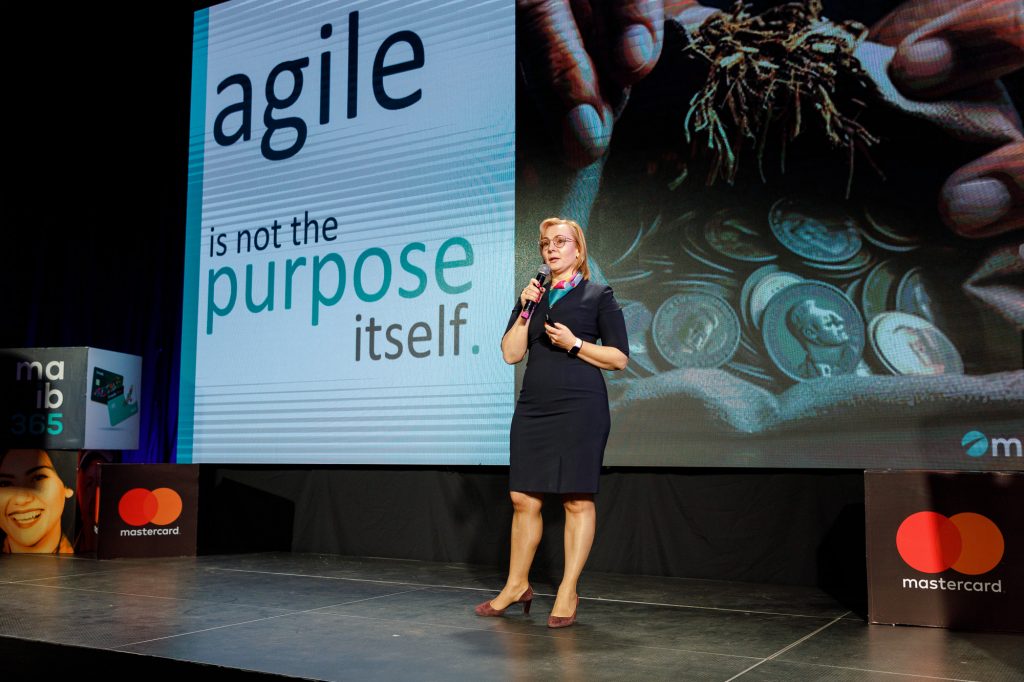 ---
Insights from Regulatory Representatives and Business Leaders:
Mr Arcadie Albul, Deputy Governor of the National Bank of Moldova (BNM), and MS. Veronica Arpintin, Secretary of State at the Ministry of Economic Development and Digitalization (MDED) outlined the latest regulatory initiatives in Moldova, including Open Banking, Regulatory Sandbox, and the Instant Payment System.
Mr. Albul talked about the main Fintech areas the National Bank of Moldova is currently focused on, including the National Bank of Moldova's vision to foster a modern, efficient, and inclusive financial system that supports the economic development and financial stability of Moldova; NBM's initiatives to promote innovation and competition in the financial sector by creating a regulatory sandbox, a fintech hub, and a digital banking license framework; NBM's openness to collaborate and work with other authorities, international organizations, and private sector stakeholders to ensure a harmonized and balanced approach to fintech regulation and supervision; NBM's expectations and call for experts and main players in the field to share their insights, experiences, and best practices on how to leverage fintech for the benefit of the consumers, the financial sector, and the economy.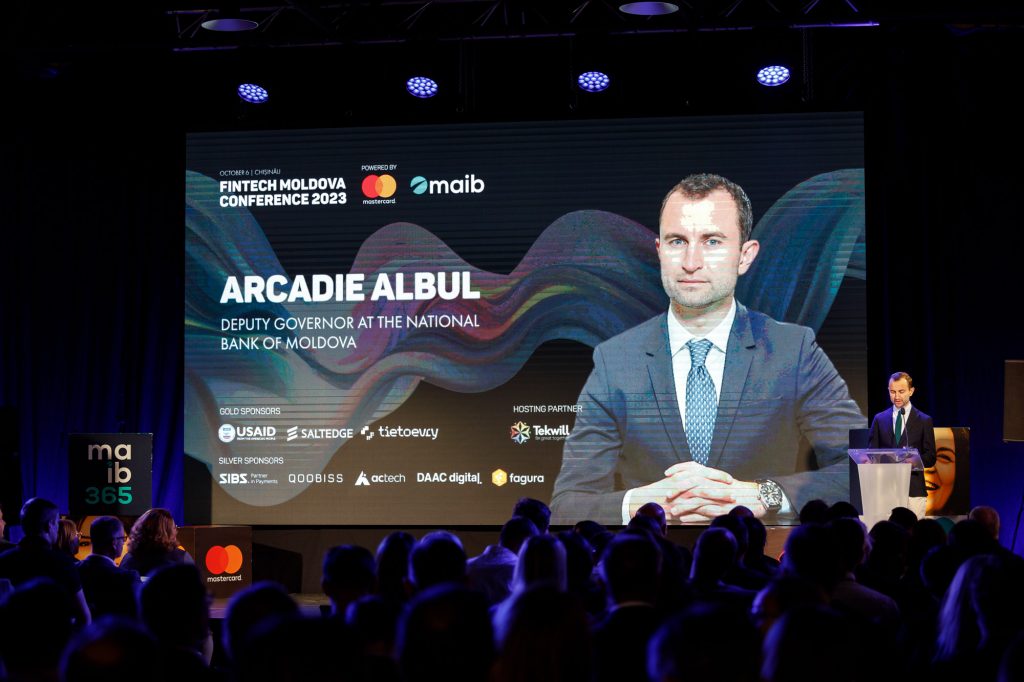 MS. Arpintin highlighted the importance of fintech for the economic growth and digital transformation of Moldova, and the government's efforts to support this sector. She talked about some of the opportunities and challenges that fintech offers, such as increasing financial inclusion, enhancing customer experience, improving efficiency and security, and addressing cyber risks and regulatory gaps. The Ministry of Economic Development and Digitalization of Moldova invites everyone to share their ideas and best practices to overcome the challenges and seize the opportunities provided by fintech.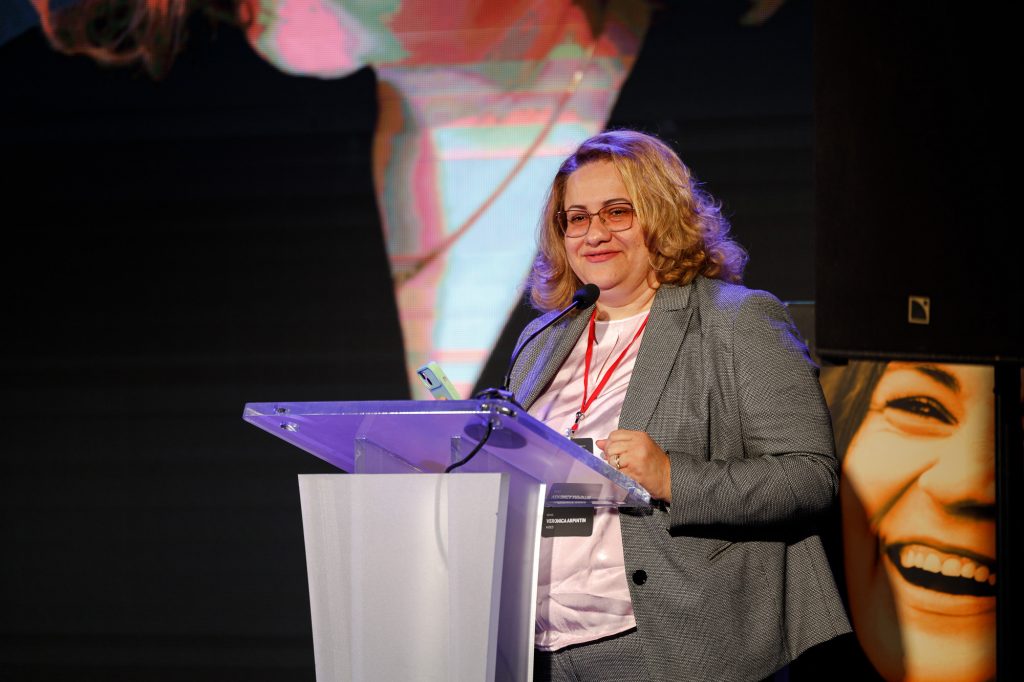 ---
Global Context and Future Trends:
The conference also explored the current global context and its impact on the Fintech sector. Despite the lingering effects of the pandemic and the significant repercussions of the conflict in Ukraine, the markets are recovering. The discussion included the launch and success of Challenger Banks, a category of financial institutions relying on digital channels for customer interaction.
International expert speaker Chris Skinner was the keynote speaker at Fintech Moldova Conference 2023. Mr. Skinner shared his vast experience and knowledge about how innovation, financial innovation specifically, is the main ingredient of global well-being.
In his keynote speech at the Fintech Moldova Conference 2023, Chris Skinner provided a comprehensive overview of the global Fintech landscape. Identifying four major trends, Skinner emphasized the paradigm shift brought about by digital transformation, driven by evolving customer expectations, competitive dynamics, and regulatory shifts. He highlighted the transformative power of open banking, enabled by APIs, standards, and regulations, fostering collaboration and innovation. Additionally, he discussed the rise of decentralized finance, marked by peer-to-peer, blockchain-based solutions like cryptocurrencies, stablecoins, and smart contracts, challenging traditional intermediaries and institutions.
Skinner dedicated a segment of his keynote to the profound impact of the COVID-19 pandemic on the Fintech sector. He underscored how the crisis served as a catalyst, accelerating digital transformation and the adoption of Fintech solutions, while simultaneously exposing vulnerabilities in existing systems and infrastructures. Stressing the importance of resilience, agility, and innovation, Skinner outlined the imperative for the industry to respond effectively to the crisis and proactively prepare for the future.
Turning his attention to Moldova, Skinner commended the country's progress and potential within the Fintech sector. Acknowledging the high level of digital literacy, a supportive regulatory environment, and an active Fintech community, he also pinpointed areas requiring improvement. These included the need to enhance financial inclusion, address issues of trust and awareness, and foster greater collaboration and investment. Skinner concluded by encouraging stakeholders in Moldova to capitalize on opportunities, surmount challenges, and leverage the global Fintech network and best practices for sustained growth and development in the sector.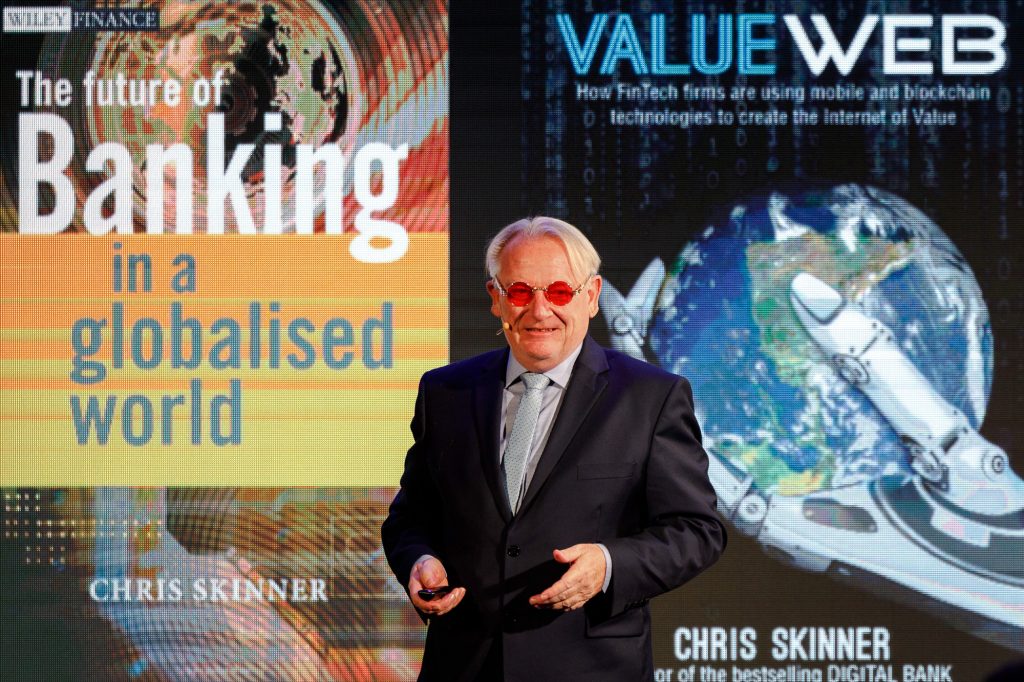 International experts also shared experiences from Fintech ecosystems in Estonia and Israel. Examples of best practices and the journey toward enhanced efficiency in the digital banking sector were presented. Estonia and Israel are 2 of the most advanced countries in the world in terms of innovation and technology adoption. Mr. Victor Guzun, former Moldova Ambassador to Estonia, and Mr. Aviel Sella, Deputy Chairman at the Israel Fintech Center, presented case studies that are relevant to Moldova – lessons to be learned from Estonia's and Israel's journeys.
The conference reflected the global shift toward digital financial services. Bryan Caroll, mentioned earlier, also emphasized that technological solutions once considered a luxury, are now democratized and widely used by the general public. Traditional banks are under increasing pressure to provide innovative services as Challenger Banks gain ground globally. The survival of traditional banks will depend on their ability to compete with technology giants entering the financial market. Trust and data protection will be crucial, with consumers demanding more from companies in terms of safeguarding personal information.
---
Local Expectations and Challenges:
Eugen Ghilețchi, Financial Sector Reform Component Lead in the USAID Moldova Institutional and Structural Reforms Activity, highlighted that 40% of Moldova's population lacks access to digital financial services. Consequently, cash remains the primary medium for transactions. However, there is a growing demand for better services, including user-friendly mobile applications, instant payments, and continuous technical support.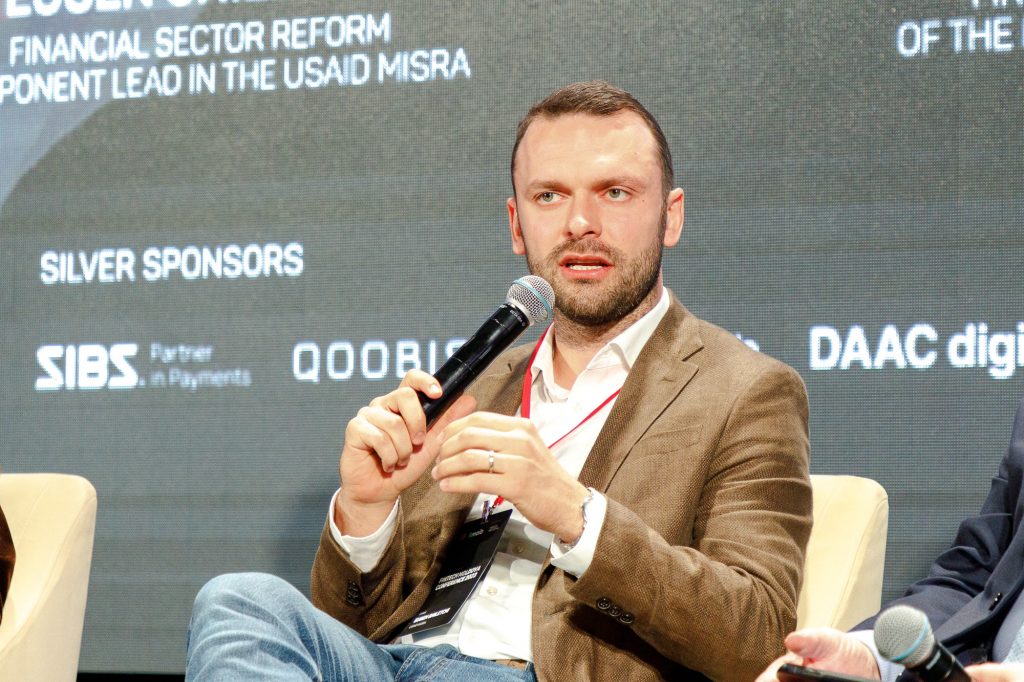 Moldova has shown significant potential for digital transformation, with the Fintech investment market expected to grow significantly in the next 4 years, reaching a market volume of approximately €180 million, according to Statista. Challenges remain, particularly in improving technologies and card usage. The future will likely see a shift toward more biometric and facial recognition-based payment methods, as predicted by industry experts.
Innovative financing methods, such as crowd lending, are gaining popularity, especially among legal entities, including SMEs. The landscape is evolving, with digital transformation becoming a key driver of economic growth.
---
Conclusion:
The Fintech Moldova Conference showcased the nation's progress in digital transformation, with an optimistic outlook for the future. As Moldova continues on its path towards technological evolution, collaboration between the public and private sectors will be essential in shaping the digital future of financial services in the country.
To get updates about future Fintech events in Moldova, or to get in touch with Fintech Moldova, go to https://fintech.md/.
FMC23 is powered by Mastercard and maib, and organized by Fintech Moldova. Gold Partners: USAID through the Moldova Institutional and Structural Reforms Activity (MISRA), Salt Edge, and TietoEvry. Silver Partners: SIBS Romania, DAAC digital, Fagura, AC Technologies, and QOOBISS. Bronze Partners: SAS and Paynet. Hosting Partner: Tekwill. Media Partners: Symbols, Stiri.md, Point.md.