Moldova's Path to Open Banking Transformation Discussed with Experts from Moldova, Israel, and Latvia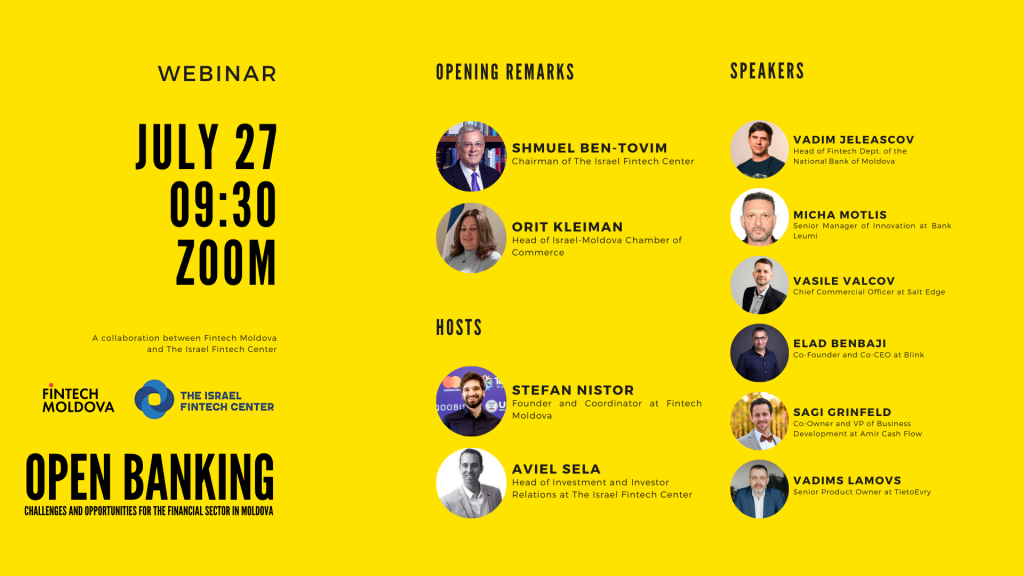 Moldova's financial sector is witnessing a transformative event with the development of Open Banking and Instant Payment System directives by the National Bank of Moldova.
During the webinar on Open Banking, which took place on July 27th, 2023. Titled "OPEN BANKING: Challenges and Opportunities for the Financial Sector in Moldova," Vadim Jeleascov, Head of the Fintech Department at the National Bank of Moldova revealed the NBM's action plan and its vision for the Open Banking implementation in Moldova, along with its plans for introducing an Instant Payment System by the end of 2024.
Also, the webinar provided attendees with a comprehensive understanding of Open Banking and its potential implications for traditional finance. Hosted by Fintech Moldova and The Israel Fintech Center in joint collaboration, it brought together experts from Israel, Moldova, and Latvia to shed light on Open Banking and its relevance in Moldova's financial landscape.
The webinar delved deep into various aspects of Open Banking, examining the regulatory, business, and technological dimensions. Drawing inspiration from Israel's and Latvia's experience as a comparable market, attendees gained valuable insights into the challenges that may arise during the implementation of Open Banking, ranging from legal and business hurdles to technological complexities. Participants were offered an invaluable perspective on how Open Banking can redefine Moldova's financial sector and elevate it to new heights of innovation.
The webinar's agenda covered a wide range of sub-topics, ensuring a comprehensive overview of Open Banking:
Definition and Global Trends: The session commenced by elucidating the concept of Open Banking and its implications for financial ecosystems worldwide. Attendees gained a broader understanding of Open Banking's relevance in the context of today's rapidly evolving financial landscape.
Open Banking in Israel: Drawing parallels with Israel, a leading market in the fintech domain, the event showcased real-world examples and lessons learned from their successful implementation of Open Banking.
Assessment of Potential in Moldova: A crucial segment of the webinar was dedicated to exploring the specific opportunities and challenges that Moldova faces in its journey toward embracing Open Banking.
Regulatory Environment in Moldova: Understanding the regulatory framework is vital for successful implementation. Participants received insights into existing legislation and compliance requirements governing Open Banking in Moldova.
Challenges of Implementation: The webinar delved into the potential hurdles during the integration of Open Banking, encompassing technological barriers, security and privacy concerns, and building consumer trust.
Opportunities for Financial Institutions: The event also highlighted the numerous opportunities that Open Banking presents for financial institutions, including potential partnerships, improved customer experiences, and personalized services through data leverage.
The distinguished lineup of experts enriched the webinar with their invaluable insights and expertise. Shmuel Ben-Tovim, Chairman of The Israel Fintech Center, and Orit Kleiman, Head of Israel-Moldova Chamber of Commerce, delivered the opening remarks, setting the stage for an engaging and insightful event.
Other notable speakers included Micha Motlis, Senior Manager of Innovation at Bank Leumi, who shared key lessons from Israel's Open Banking journey; Elad Banbaji, Co-Founder at Blink, who talked about the opportunities Open Banking can provide for Fintech startups; Vasile Valcov, Chief Commercial Officer at Salt Edge, who discussed a wide variety of use cases for Open Banking; Sagi Grinfeld, Co-Owner and VP of Business Development at Amir Cash Flow, who provided valuable insights into practical aspects of Open Banking implementation, and Vadims Lamovs, Senior Product Owner at TietoEvry, who presented Latvia's journey with Open Banking.
Stefan Nistor, Founder and Coordinator at Fintech Moldova, alongside Aviel Sela, Head of Investment and Investor Relations at The Israel Fintech Center, moderated the event.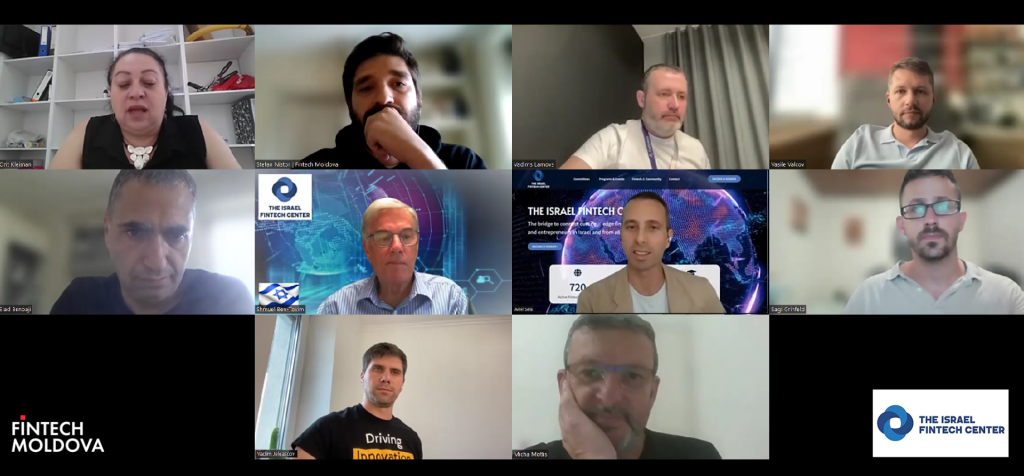 The free-to-attend webinar, conducted on Zoom, attracted a diverse audience of over 100 financial professionals, policymakers, entrepreneurs, and technology enthusiasts, all keen to explore the potential of Open Banking in Moldova.
The purpose of the webinar was, by shedding light on the challenges and opportunities that Open Banking presents, to better equip participants to navigate the changing landscape and position themselves advantageously in the era of digital finance.
The success of this event underscores the growing importance of knowledge-sharing platforms and collaborative initiatives in driving fintech innovation globally. As Moldova's financial sector prepares to harness the full potential of Open Banking, it will continue to rely on such events to shape its transformation and unlock new horizons for the benefit of all stakeholders.
To those who missed this webinar, the unedited recording can be viewed below.