Webinar Explores Open Banking Challenges and Opportunities for Moldova's Financial Sector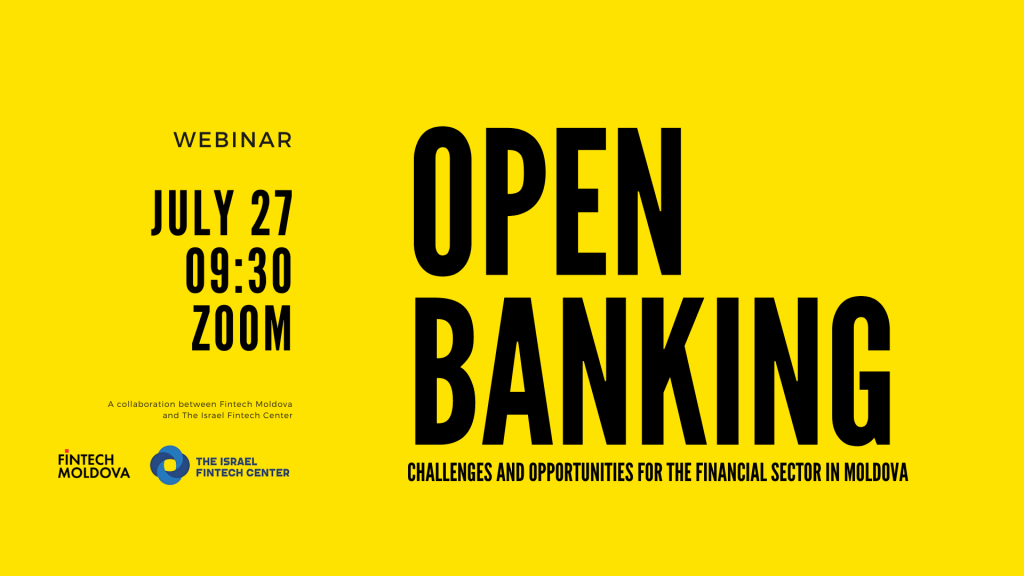 Moldova's financial sector is set to benefit from an insightful webinar on Open Banking, which will take place on July 27th at 9:30 AM. The event, titled "OPEN BANKING: Challenges and Opportunities for the Financial Sector in Moldova," aims to provide attendees with a comprehensive understanding of Open Banking and its implications for traditional finance.
The webinar will delve into the current state and potential of Open Banking in Moldova, examining its regulatory, business, and technological aspects. Drawing inspiration from Israel as a comparable market, the session will present realistic perspectives on the challenges that may arise during the implementation of Open Banking, including legal, business, and technological dimensions.
One of the highlights of the event will be the presentation of a well-implemented Open Banking directive from the perspective of the Regulator. By attending the webinar, participants will gain valuable insights into how the banking industry can benefit from Open Banking and the opportunities it presents.
The webinar will cover several sub-topics to provide a comprehensive overview of Open Banking, including its definition and global trends, an overview of Open Banking in Israel, and an assessment of the potential of Open Banking in Moldova. The regulatory environment for Open Banking in Moldova will also be examined, including existing legislation and compliance requirements. The challenges of implementing Open Banking, such as technological hurdles, security and privacy concerns, and building consumer trust, will be addressed. Additionally, opportunities for financial institutions, such as potential partnerships, improved customer experience, and leveraging data for personalized services, will be explored.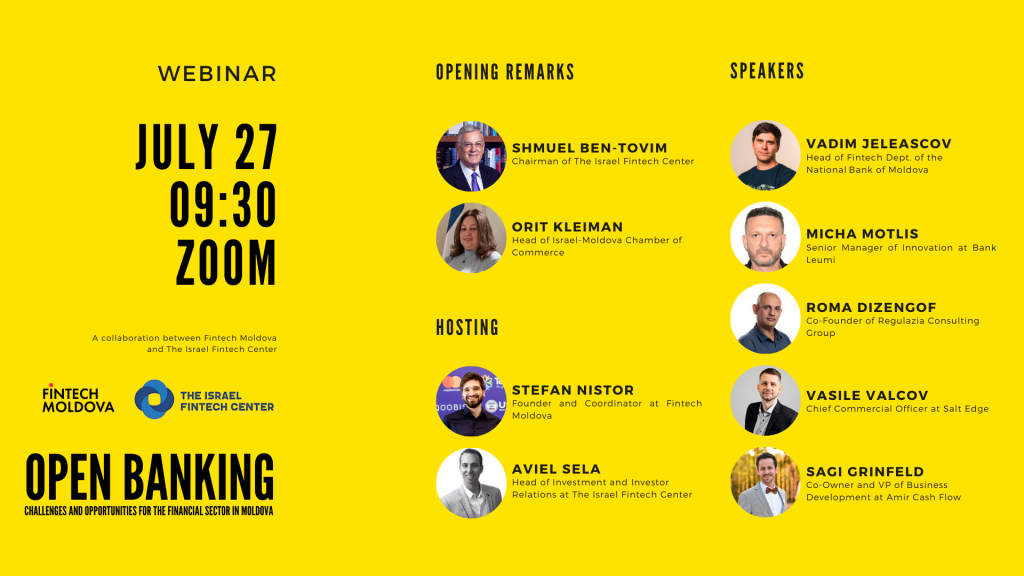 The event will feature a lineup of experts from Israel and Moldova who will share their insights and expertise. The opening remarks will be delivered by Shmuel Ben-Tovim, Chairman of The Israel Fintech Center, and Orit Kleiman, Head of Israel-Moldova Chamber of Commerce. Other speakers include Vadim Jeleascov, Head of Fintech Department at the National Bank of Moldova, Micha Motlis, Senior Manager of Innovation at Bank Leumi, Roma Dizengof, Co-Founder of Regulazia Consulting Group, Vasile Valcov, Chief Commercial Officer at Salt Edge, and Sagi Grinfeld, Co-Owner and VP of Business Development at Amir Cash Flow.
The webinar will be hosted by Stefan Nistor, Founder and Coordinator at Fintech Moldova, and Aviel Sela, Head of Investment and Investor Relations at The Israel Fintech Center.
The event is free to attend and will be conducted on Zoom. Interested participants are encouraged to register in advance through the provided link to secure their spot.
The webinar is organized by Fintech Moldova and The Israel Fintech Center in joint collaboration. This unique opportunity promises to equip attendees with the knowledge and insights needed to navigate the challenges and seize the opportunities presented by Open Banking in Moldova's financial sector.
For more information and to register, please visit the following link:
https://us06web.zoom.us/webinar/register/3016889985422/WN_8D5Tez7xS-CtzXFX5WZb-w